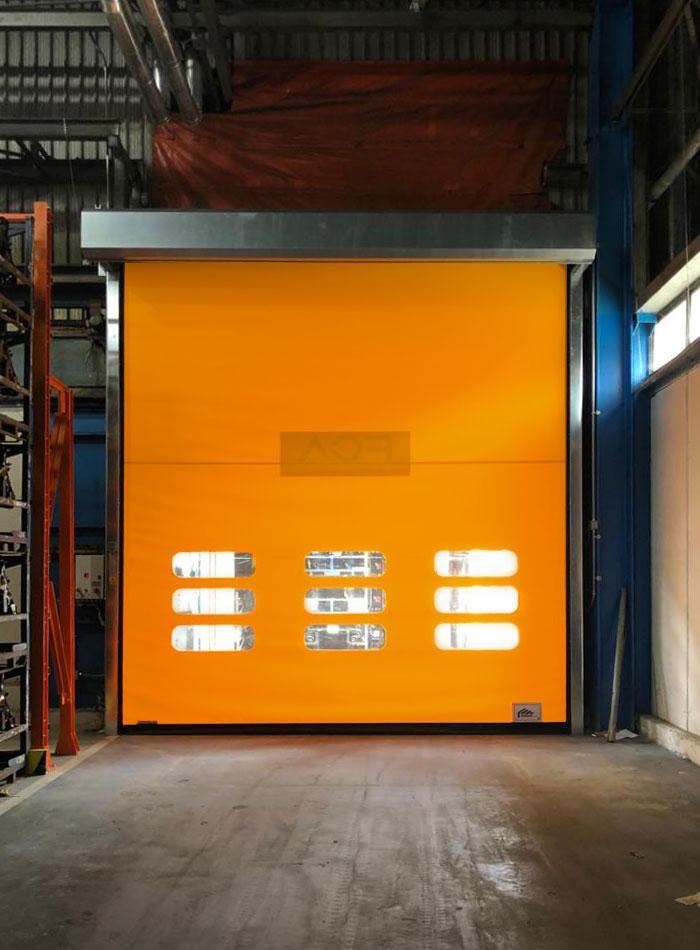 THE NEW FRONTIER OF THE SELF-REPAIRING INDUSTRIAL ROLL UP DOOR PUSH & PULL
Self-repairing roll up doors B-Drive Push & Pull are ideal for all industrial sectors that need to divide work environments quickly and flexibly.
B-Drive® is the brand new range of windproof doors suitable also for outdoor applications for large openings.
The self-repairing doors of the B-Drive series guarantee wind resistance up to class 5, the possibility to close large openings at speed thanks to the traction of a system of gears – driven by a motor – that drive the curtain.
The B-Drive® is equipped with a new and damage resistant zip.
The patented curtain with its new and damage resistant zip allows a reduction of jams in case of a collision and the redirection operation post-collision, and the self-repairability at the exact point of impact.
B-Drive® Push & Pull series
The B-Drive represents a new concept of the self-repairing high-speed door, it is designed for outdoor use and, thanks to a "push & pull" system, it always guarantees door closure even in extreme wind conditions (up to Class 5). The door is extremely safe due to the absence of weights or bars.
The B-Drive® achieves Class 5 wind resistance..
The B-Drive® SP improves the basic model of the series and represents a further step forward in the innovation of self-repairing high-speed doors with PVC curtain. While both feature the innovative "push & pull" system that guarantees door closure in extreme wind conditions up to class 5, the B-Drive® SP features a spiral coiling system that allows the door to be rolled up better, ensuring even more compact dimensions.
The B-Drive® SP version has smaller dimensions up to 5,000 mm x 5,000 mm compared to the standard B-Drive® version.
SERIES B-Drive
Discover our new generation of self-repairing high-speed door models
Are B-Drive® Push & Pull not the most suitable solution for your needs? Look at the other models of self-repairing high speed doors: